Golomt Bank signed a memorandum of understanding with OneSky non-profit organization, and Norihiko Kato, CEO of Golomt Bank and Morgan Lance, CEO of OneSky signed the MOU.
Within the framework of the memorandum, Golomt Bank will support the establishment of the organization's new project, Mongol ger-based child development play center. By establishing a child development game center, which is planned to be opened on June 1, 2024, young children will be able to develop through games, discover their skills, fill the space of children's playgrounds that are missing in the ger districts of Ulaanbaatar, and learn and develop through games in four seasons of the year. The playing center will be established in an 8-walled Mongol ger next to the "Family Center" of OneSky organization located in the 21st khoroo, Bayanzurkh district. In this way, 25 children aged 0-12 can play for two hours at a time, or 100 children a day, and a total of about 5,000 children a year. Also, this project is unique in that it provides opportunities for children's parents and caregivers to participate in training and develop themselves while their children are playing.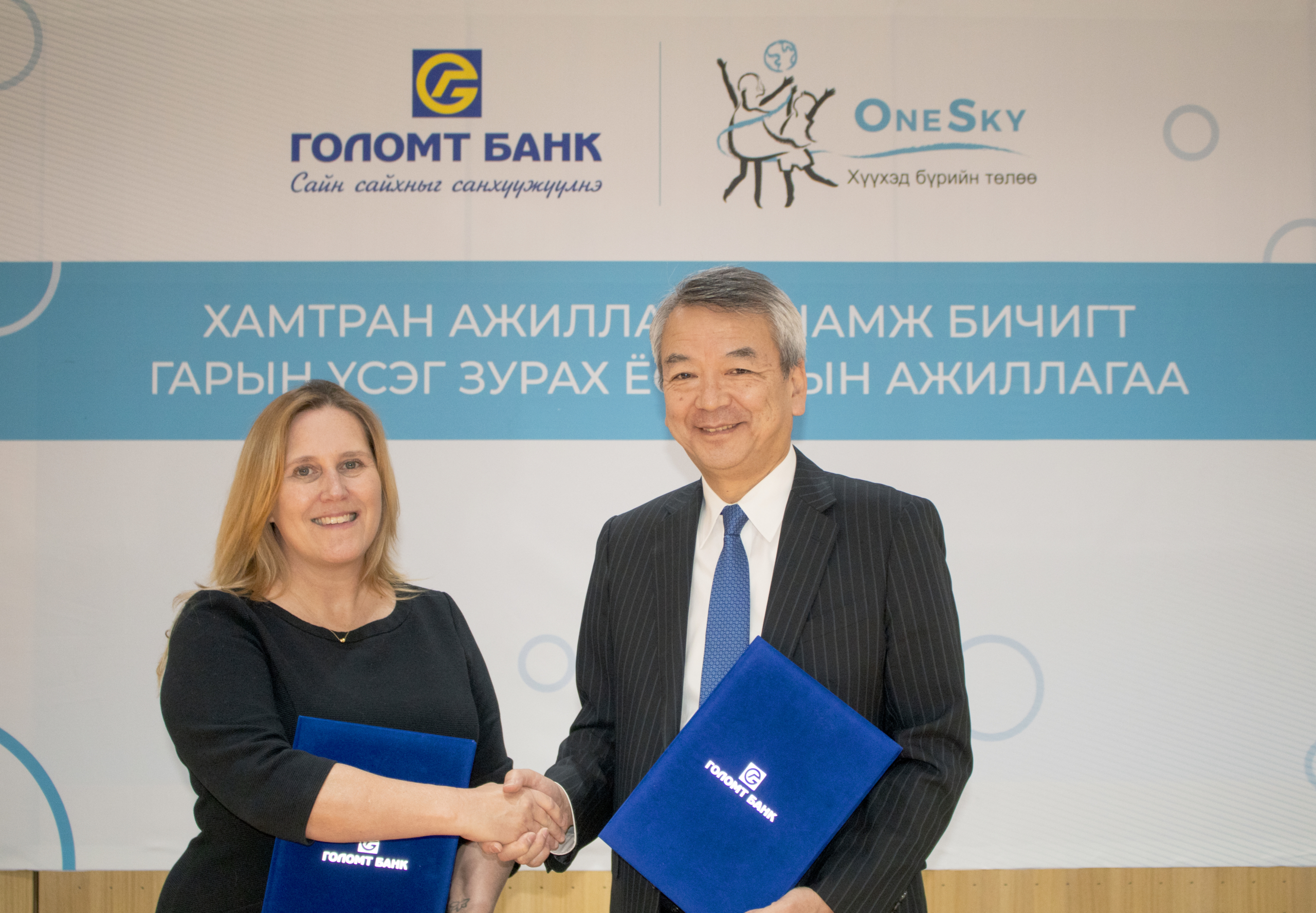 During the event, Morgan Lance, CEO of OneSky stated, "All of our interactions with Golomt Bank have been incredibly positive, and we are grateful for every support for our sustainable operation. We thank you so much for this cooperation. Our expectation in Mongolia is to continue to provide family skills training for families living in the ger districts as well as general support to those families and their children. And this week we are offering our very first training workshop for professional childcare providers in Ulaanbaatar".
"We recently found this work of One Sky and is very helpful and caring for very young age of children's support. And we completely agree with the idea that all children have rights to have good care at the beginning of life. Golomt Bank, among the banks and financial institutions, is the first to join this project, and we are happy to cooperate in supporting this initiative." Norihiko Kato, CEO of Golomt Bank.
Golomt Bank, which implements the Sustainable Development Goals approved by General Assembly of the United Nations, has expanded its charitable activities to contribute to the health and education of children and youth, and has started cooperation with international organizations. Individuals, companies, and institutions are also encouraged to join in this work of bringing happiness and joy to children.
Every child deserves to be happy